Thresher Sharks follow precise swimming patterns based on triangular grid with repeated circular patterns at each corner.

With some of the region's best dive sites, this newcomer on the Visaya dive circuit has created quite a stir. Malapascua's fabulous sugar-white soft sand beaches are often described as "better than Boracay." This once remote, tiny island is made famous because of the magnificent Thresher Sharks, which are almost surefire sightings at Monad Shoal.

Peak season is usually from December to April, when the weather is warmer, with March to May being the warmest and when human traffic is highest on the island. July to December is the low season, with mild typhoons hitting the island sometimes. Hammerheads are seen from December to April with April being the best month for schools.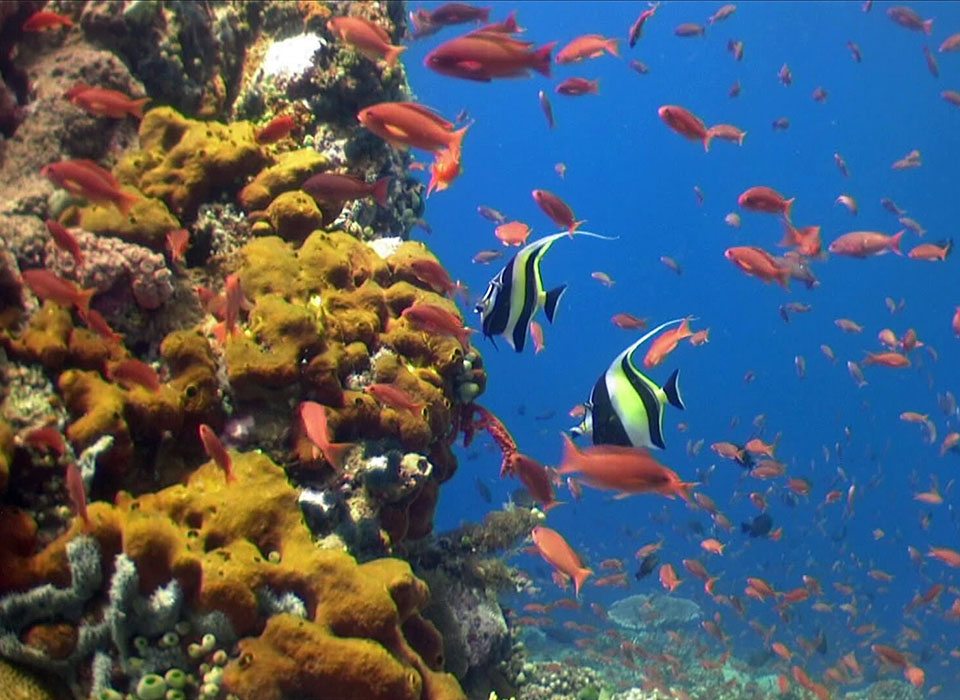 What Our Trip Leader Have to Say:
It's 4:30am and you have crawled out of your cosy, warm bed to go diving. You shiver as pull on your still damp wetsuit. Cold, sleepy and hungry you find yourself 25m deep, next to the edge of an underwater drop off, peering into the gloom, waiting... Your mind starts to wander... Are you narced? ...What are you doing here anyway? What masochist tendencies have finally led you here to a literal and metaphorical precipice, putting yourself at the mercy of some unknown, deep­water monster?
A dark shape approaches, you feel a rush of adrenaline and suddenly, your mind is clear. The sheer size! What a graceful tail! What strange eyes! You are entranced by the movements as it may be the most magnificent and strange predator you have ever seen. But soon, it is gone and you need to go back up. But you will gladly do it all again, to catch another glimpse of the thresher shark.
- Monica Choo, MI Dive Sites At a Glance:
Monad Shoal: An underwater island with a 200m drop-off is the starting point for Sharks & Rays before they begin their day at sea
Calangaman Island: Wall dive with Snappers, Fusilier & Anthias as well as large Sharks & Rays. Tuna, Barracuda, Clown Triggerfish, Garden Eels, Hammerhead Nudibranchs, Mushroom Coral Pipefish, Ghost Pipefish, Candy Crabs, Denise Pygmy Seahorses
Dona Marilyn: The sunken Filipino passenger ferry now covered in Hard & Soft Coral & Black Coral Trees
Gato Island: Sleeping Sharks & Sea Snakes await you in this protected sanctuary, or dive through the tunnel that goes under the island itself!