Diving in Fiji
The spectacular variety of
marine life is what keeps
divers coming back.
Diving In Fiji
Dive happiness as you dive Fiji for this diving experience will surely marked as one of your favorite diving journeys. Fiji is labeled as the "Soft Coral Capital of the World" and also the home of Great Astrolabe Reef. Fiji has 332 islands and 522 smaller islets.
Situated to be near at Pacific Ocean, getting here in Fiji seems hard, but it's actually not. Many international airlines offer a regular flight to Fiji, these airlines are; Jetstar, Air New Zealand, Korean Air, Pacific Blue, Virgin Australia, Air Niugini, Air Vanuatu, Air Caledonie and Our Airlines. Fiji has 5 main popular diving sites, the Bega Lagoon, Kadavu, Viti Levu, Bligh Water and Taveuni.
Diving in Fiji will let you have an encounter with variety of marine creatures, some are even rare. It has more than 1000 species of fish. Spoil your adrenaline rush as Fiji, the best shark dive in the world, can give you a sight of Grey Reef Sharks, Silvertips, Hammerheads and White Tips. Explore the area more to see variety of Dolphins, Sea turtle, Eels and Sea Snakes.
Coral life in Fiji is unique, with around 4000 square miles of coral reef. The site is known for its abundance in soft corals. Reefs here come in different ways, the Fringing reefs, Lagoonal patch reefs and the Barrier reefs. There are also reefs that became habitats of the fishes found in Fiji like; Reef flat, Reef Crest, Pinnacles, Fore Reef slope and Lagoonal floor.
The sites' depth ranges 5 to 40 meter, having a visibility of 15 -40 meters. You can here all year round. April to October, winter months, is a great season for scuba diving in Fiji, although visibility peaks in the month of July through December. Water temperature ranges 28- 30 degree Celsius. Water currents and conditions depend on the location and weather.
Diving in Fiji is suitable to all kind of divers, whether beginner or advanced diver. The area is also good for snorkeling, photography, water sports and if you really have the luxury, leisure cruising in Fiji. Never missed this one of a kind experience, book and dive Fiji now!
| | |
| --- | --- |
| Currency: |  Fijian dollar (FJD) |
| Language: |  Fiji Hindi, Fijian |
| Capital: |  Suva |
| Electricity: |  Two flat pins in a V-shape |
| Government: |  Unitary Parliamentary Republic |
| Timezone: |  UTC +12 to UTC +13 |
| Calling Code: |  +679 |
| Network Providers: |  Vodafone, Digicel |
| National Airline: |  Fiji Airways |
Liveaboards in Fiji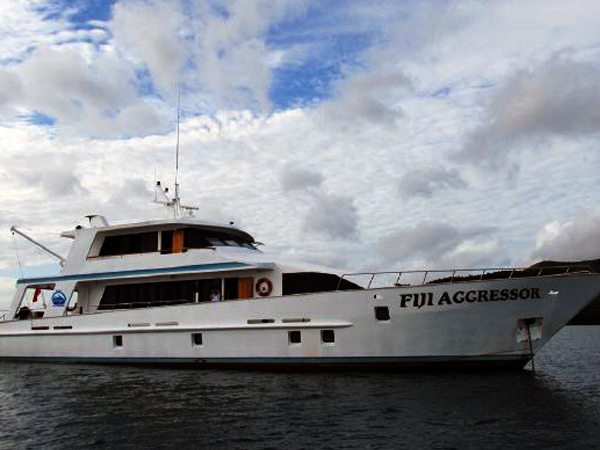 Fiji Aggressor
Liveaboard with a stable, comforting and stress-relieving ship, the Fiji Aggressor. Wander Fiji, the Soft Coral Capital of the World, on a seven night cruise which starts and ends in Suva.
Fiji Aggressor is first called as Island Dancer II is a 101-foot ship with 5 spacious cabins that can accommodate 10 guests. Fiji Aggressor's rooms are luxurious and its accommodation will make you feel like home. It has 4 Deluxe Staterooms with double lower beds and twin upper banks and a Master Stateroom with everything that will make you feel like royalty. It also has ample room which lets divers view and take pride of their underwater photography.
On the 7 night cruise, there are about 4 to 5 dives per day. Explore the reef walls of Nigali Pass, Wakaya, Koro and Namenalala Islands. As you dive such areas, marine creatures will welcome you like Rays, Turtles, Sharks, Clownfish and Nudibranchs.
Normally, diving sites in Fiji has a depth ranges from 5 to 40 meter. Meanwhile, its visibility is from 15 to 40 meter, and water temperature averages from 28- 30 degree Celsius. Great time to liveaboard to Fiji Aggressor may be from April to October as it is a great time to dive Fiji.
Spend the nights in Fiji Aggressor and enjoy local beer and wine after your dives!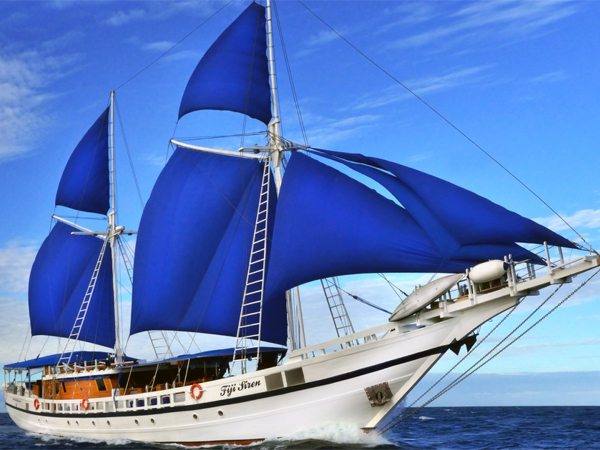 Fiji Siren
Experience Fiji the way you never did before!
What a special feeling to take a cruise to islands full of wanders and magical experience— and that is the feeling when you liveaboard Fiji Siren. Having a length of 40 meters, Fiji Siren's speed is about 10 knots with specialized engines for better accommodation.
Fiji Siren has eight large cabins which offer twin or double accommodation wherein two are interchangeable. The cabins are accompanied with airconditioners, entertainment system and home essentials. There is a lounge with sofas, televisions and cocktail bar. The dining area is intentionally built outside to have the ocean as its view. There is also an unshaded deck meant for divers who wish to dry themselves first.
Fiji Siren offers up to seven or 10-night liveaboard trip. Coral garden, Reef walls and pinnacles are all present at every diving site. Barracudas, Tunas, Manta Rays, Ribbon eels, Leaf Fish, and other small creatures are just roaming around the area. Diving facilities are also complete, rebreathers, 12 and 15 liter tanks, lost diver devices, free nitrox, free rental scuba equipment and DIN adaptors. Photographers are also well-served. There are lots of charging stations and there is a camera table on the dive deck.
Aside from diving, relaxing, sight-seeing, and photography, other activities include kayaking and water skiing. Massage, laundry and yacht boutique are also available.
AS Tui Tai
Dive with delight and please in Fiji, lveaboard AS Tui Tai. AS Tui Tai has a length of 42 meters, beam of 10 meters and speed of 9 knots. It can accommodate a group of up to 24 divers.
AS Tui Tai is hailed as one of the Best Adventure Companies on Earth by National Geographic and one of the 8 World's Sexiest Cruises by Conde Nast. It has 9 air-conditioned Staterooms with private bathrooms. It has also Spa service, air-conditioned saloon with bar and marine library. It offers rentals of underwater cameras. After your dives you can go fishing, or relax at its Star-Deck private cabanas.
Diving liveaboard AS Tui Tai is worth spending for. Its destinations are Natewa Bay Vanua Levu, Tabiang Rabi, Kioa, Taveuni, The Ringgold Atolls, Qamea and Motawa Rabi. Dive to its crystal clear water and be amazed to the rich marine biodiversity the locations have. Have a close-up experience with Manta Rays, Clownfish, Pipefish, Sweetlips and other marine creatures which are just swimming around the area. Corals and reef walls are also beautifully in abundance. The activities that Tui Tai focus, aside from diving, are snorkeling, and cultural immersions.
Best book during the month of April to October. Water visibility ranges to 15-40 meters, it depth averages r-40 meter and temperature at 28-30 degree Celsius.
Dive Resort in Fiji
Taveuni Dive Resort
Forget about your stress and book to a resort that will surely give you a taste of Cloud 9— the Taveuni Dive Resort. Located at the north of Fiji, Taveuni is just several flights away from Nadi. Taveuni Dive Resort can accommodate 16 to 24 diver-group. There are over 25 dive sites around the area which you can get to in just less than an hour. It is known due to its short distance to Great White Wall and Rainbow Reef.
There are around 1,198 fish species and more than 230 species of soft coral in Fiji that make the divers keep coming back to Taveuni to stay. The said resort has restaurant and bars and such social places that help divers socialize with each other. It also has 9-hole golf course and tennis court if you want to try in-land recreation too. And when you are tried and want to relax in confined waters, Taveuni Dive Resort offers swimming pools too.
Aside from water activities, the resort is nature-attached. Photographers will be inlove with the area at their first sight. There are parks, falls, coastal walk and such. You can try game fishing and horse riding, too.
The resort is open all year round but the main diving season is around April to October. December to March are the summer months, while the winter months are from July to September. Great diving adventure and unforgettable experience deserve a relaxing accommodation, and that what Taveuni Dive Resort has to offer.