Diving in Thailand
The spectacular variety of
marine life is what keeps
divers coming back.
Featured Dive Destinations
Diving in Thailand
Diving in Thailand has blossomed into a world-class experience, giving you the sight your eyes would want to see on Earth. From different species of marine life and corals, tourists can definitely give a five-star review to its diving destinations. The colourful soft corals, sea fans, small caves and wide variety of fish and macro critters are some things to be expected in Thailand's finest spots.
Get a chance to meet and observe a wide variety of marine life in the renown dive spot in the world. Some of the most awaited scenes are swimming turtles, manta rays, harmless reef sharks and multi colored tropical fishes. Included in the list are barracudas, lionfish, seahorse, stonefish and many others. Another drawbacks for divers who keep diving back to Thailand are many species of fish mollusk, sponge, worms, crustaceans, echinoderms with notable species like dolphins.
Thailand is blessed with very fine coral reefs which is far better than the others in the world. Differing in size, species diversity and conditions, corals are still guaranteed to be amazing. Seagrasses are also present in the view which plays as another habitat for some marine animals like Dugong and a number of marine species, using these places for feeding.
Memorable diving experience from Thailand's tempting and mind blowing dive spots can be achieved in the best conditions. Having two main diving areas, Andaman Sea (West Coast) and Gulf of Thailand(East Coast), there is also two differing diving season. On the west, it has a tropical and mostly hot and humid weather with water temperature of 21°C. Tourists can go diving from November ti April with December and January being the busiest months because of the very good visibility in that time. On the Other hand, Gulf of Thailand's best time to visit is on May to August when the weather is not too hot. Gazing the beauty the underwater, you will surely enjoy everything on the picture with the water visibility ranging from 10 up to 40 meters.
| | |
| --- | --- |
| Currency: |  Thai Baht (THB) |
| Language: |  Thai |
| Capital: |  Bangkok |
| Electricity: |  two-prong round  plug |
| Government: |  Constitutional Monarchy Under Military Junta |
| Timezone: |  UTC +7 |
| Calling Code: |  +66 |
| Network Providers: |  AIS, dtac, truemove H, My, TOT |
| National Airline: |  Thai Airways |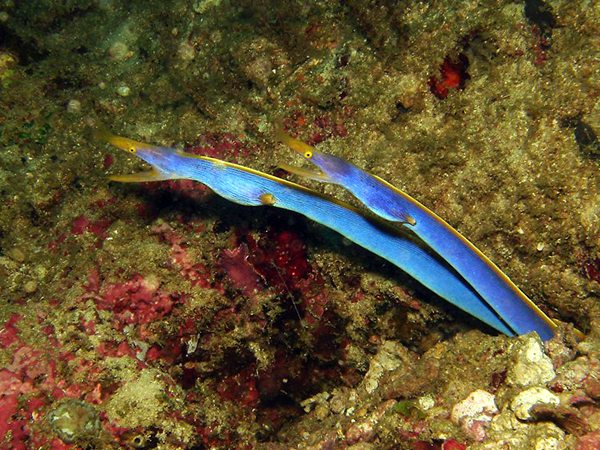 Branded as the 'Pearl of the South', Phuket Island is a diverse and fascinating island to explore. This paradise is located in the southern part of Thailand in the Andaman Sea. Its mountain range is surrounded by exquisite beaches with turquoise-blue waters that contains an amazing variety of marine life underneath.
Rich in culture and spectacular natural sights–however, what sets to be the main highlight of all the attractions are the loads of outdoor activities like scuba diving and watersports. Phuket is the gateway to the best scuba diving in Thailand. It only takes a short hour's plane ride south of the capital and around 45 minutes in a taxi to reach the island. This tropical island is central to all of the region's best 60+ dive sites because of its easy accessibility.
Scuba diving in Phuket continues year round with the best conditions being in the high season of November to April. The water temperatures range from 26°C (January and February) to 30°C (May and June). It has a visibility of 5 – 40m with calm to moderate surface conditions. From May to October, the sea can be choppy and visibility is often reduced. If you prefer non-crowded main dive sites, we recommend you to visit around January to April.
Due to its climate, some of the planet's most outstanding and world-class tropical reefs can be found here. The waters here are warm and the currents are mild; you could not be in a more beautiful and relaxing dive environment. You can spot just about everything you've dreamed of seeing in the Andaman Sea. The big stars are the Manta Rays, Whale Sharks and various species of Reef Sharks. Leopard Sharks and Turtles are also common. You'll surely spot large schools of pelagic fishes and giant Trevallies patrolling the area. The macro life is also interesting and provides some good opportunities for underwater photographers. The coral reefs are very colorful and shallow coral gardens will make your safety stops more than enjoyable!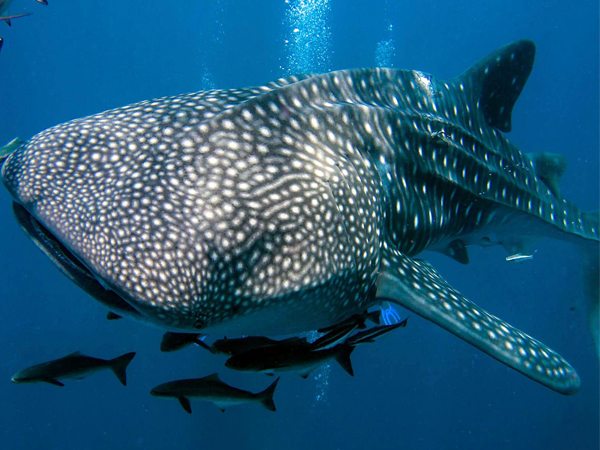 Blessed with fine beaches and washed by a clear blue tropical ocean, Similan Islands are the most beautiful and diverse dive destination in Thailand. These amazing uninhabited islands are located 65 km offshore from Phang Nga Province in the Andaman Sea, and 84 km northwest of the bustling crowds of Phuket.
Similan Islands are a chain of 9 tiny and luxuriant islands known for providing some of the best and splendidly picturesque sceneries in Thailand. Placed by National Geographic as "One of the Top Ten Destinations to Visit in the World," and generally counted among the 10 most interesting dive areas in the world can be found in this protected national park. It is the sanctuary to Thailand's least spoiled and most spectacular diving spots.
Access to the Similan Islands is only by boat from Tablamu port, just south of Kaho Lak in Phang Nga Province. The trip takes three hours each way on slow boats or 70 minutes via speedboat. The park closed from May 15th to November 15th of each year so the best time to visit and try scuba diving in the Similan is from December until April. The diving at this time of year is great as the visibility is always between 25-40m, and calm seas with temperature that usually ranges between 26-29°C. Similarly, the light conditions are good as divers descend to depth.
The most interesting sights are to be found beneath the waves. Some of the most spectacular coral growths in the world can be found here, an adventure playground for divers. The island is home to an immense variety of marine life of which many are rare and endangered species. Amazing contrast of massive colourful coral garden teeming with fish life such as Lionfish, Clownfish, Leopard sharks, Trigger fishes, Unicorn fishes, Always keep an eye out for the pelagic fishes like barracudas and giant trevallies. If you're lucky, you can also spot often Whale Sharks and Giant Manta Rays. You will be amazed by the diversity of the underwater world that the Similans have to offer. Surely a treat to all levels of divers and marine life enthusiasts.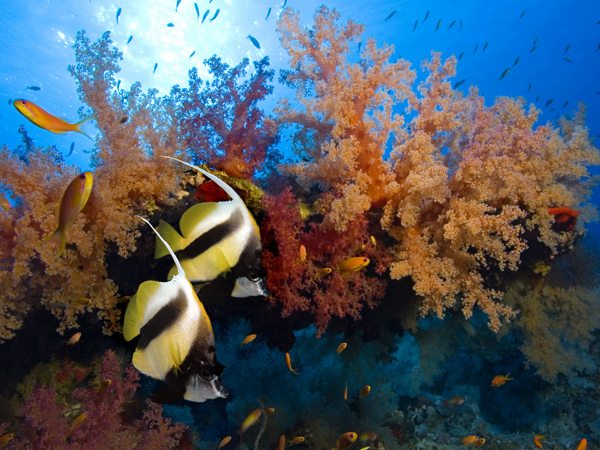 Two of the most famous dive sites in Thailand is Hin Daeng and Hin Muang. Beneath the bare rocks seen from above water lies the sanctuary of breath-taking caves, submerged pinnacles, healthy reefs, macro life are all elements of diving in this region.
Hin Daeng translates to "Red Rock" while Hin Muang is "Purple Rock"—just 500m away from each other, these two fascinating underwater rock formations are nestled in the south of Phuket and Phi Phi. Located 55 miles (100km) south of Chalong Bay, Hin Daeng and Hin Muang offer some of the only and the best wall diving sites in the Andaman Sea.
Diving in Hin Daeng and Hin Muang is best between November and April when the weather is at its most stable. The water temperature ranges between 27-30°C throughout the year, warmest around February to April. The visibility is usually good that ranges from 20-30m which is superb for underwater photography. The best way to visit these islands is by speedboat from Phi Phi and Koh Lanta if the weather is just right which takes about 1 hour and 20 minutes.
Truly world class sites particularly known for offering steep walls covered with red and purple lush soft coral gardens and anemones. Home to diverse big fishes like small Reef Fish, Boxer Shrimps, Octopus and Giant Morays. Schools of Jack Fish, Barracudas and Rainbow Runners circle around this reef to feed. Sightings of Whale Sharks and Manta Rays are common. These species fringes the compelling view underwater. Surely a treat to the sight of all divers!